uPVC Doors Raynes Park, London
Our uPVC doors will make a welcoming entrance to any style of property, new or old. Get uPVC doors fitted in Wimbledon, Raynes Park, Southfields, New Malden, Old Malden, Morden, Worcester Park, North Cheam, Cheam, Stoneleigh, Ewell, West Ewell, Earlsfield, Wimbledon Village, Tooting Clapham Common, Wandsworth Common, Wandsworth, Putney, Putney Heath, Roehampton, Fulham, Parson Green, Merton, Surrey and the surrounding South-West London areas.
Extremely low maintenance, they never require painting or varnishing. These coloured uPVC doors can be fitted with matching hardware. This is so you can add curb appeal and market value to your home.
There are many reasons why we choose to work with the Liniar  uPVC profile. Crafting our uPVC doors is something that we put a lot of effort into. This incredible design is renowned throughout the industry for providing maximum thermal efficiency and incredible security options all within a highly customisable profile. There's no need to settle for anything less than the best; our uPVC front doors are affordably priced.
At the same time, our Liniar uPVC doors are fully fitted with Yale's high security locking systems. We always put your safety first, which is why we use Britain's favourite multipoint locking system for prime protection. You'll be receiving complete security and peace of mind when you choose our uPVC external doors, so get in touch with our specialists to find out more.
Double Glazed Doors

We have a wide variety of styles to choose from so that you can find one that suits your own personal taste including panel configuration and glazing options.
Secured By Design

All of our uPVC doors are covered by the Secured by Design police backed scheme for complete protection on every home in Wimbledon.
Insurance Backed

Our uPVC doors come with an impressive guarantee of £1,000 to put towards the contents policy on your home should a break-in occur involving the door.
Weatherproof

These profiles are specially designed to keep the cold, wet and windy weather out. Benefit from weatherproofing qualities from our uPVC doors today.
Secure Doors

Yale Lockmaster multi point locks are the UK's leading door locking systems, which is why we fit them to every one of our doors.
Threshold Options

You can choose from a standard or low threshold. This is for ease of access in and out of your property.


uPVC Back Doors
You might consider your front door to be the first thing visitors see, but your back door is equally as important. In terms of security, the back door of any property is often targeted by unwanted intruders. This is why our back uPVC doors also come fully fitted with the impressive Yale multipoint locking systems as standard.
These uPVC doors come in a variety of designs, including a panic door system. This option offers a push bar for ease of access, which is perfect for emergency exits. Incredibly robust, Liniar's uPVC back doors also contain superior gaskets for the best protection against the wind and rain. That way your uPVC doors are protected from both people and the weather.
uPVC

Front Doors
If you're searching for the perfect replacement front door, look no further than our uPVC doors. Due to their innate strength, you will be enhancing the security of your property in Wimbledon, Raynes Park and the surrounding London areas. This is further reinforced through the installation of multipoint locking mechanisms as a way of securing your new uPVC door in place. 
You can also transform the aesthetic appeal of your property through the customisation options we have on offer. You can opt for a bold colour that perfectly contrasts the look of your exterior or decide on a subtle choice that will seamlessly blend in. Whatever you're looking for, we're confident you will find with our uPVC doors range.  
These front doors will also help your overall thermal performance. This means that you will hopefully see a reduction in how much you spend to keep your property warm in Wimbledon and the surrounding areas. Our uPVC doors are also great for the environment. Liniar strives to make products that are completely lead free so that they can be easily recycled. Not only this, but all waste materials aren't just chucked out. After making their uPVC doors, Liniar will use waste products to make other products. When opting for our uPVC doors you know that you will be making a better impact on the environment. 
If you would like to find out more information about how our uPVC doors can transform your way of life, please get in touch with us today. We look forward to answering all your questions.   
Double Glazed Front Doors Installer
We've devoted our efforts to make sure that we deliver high-quality uPVC doors. Because of this, we've earned recognition from a number of accrediting bodies such as the Double Glazing Network. To join this prestigious group, installers are required to pass a series of stringent quality checks regularly, an accomplishment we are proud to achieve.
At the same time, we also maintain our status as a FENSA registered partner. This requires adherence to similar quality controls. This is one of the reasons that we can work with so many recognisable product lines. Work with one of the finest installers in London, and choose Wimbledon Windows for your uPVC doors installation.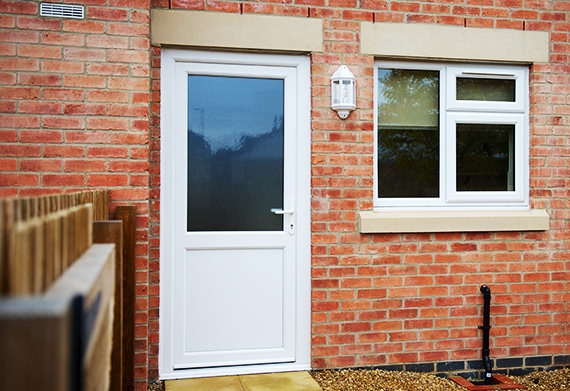 uPVC Door Prices Wimbledon, London
Reach out to the Wimbledon Windows team to see how we can help you in your search for high-quality home improvements. We have a long history of helping homeowners to get the best deal possible, and all our uPVC doors are custom-made and affordably priced. Start your journey today and contact us on 020 8543 1444 or email us on sales@wimbledonwindows.com.
We supply and install a wide range of uPVC doors in Wimbledon, Raynes Park, Southfields, New Malden, Old Malden, Morden, Lower Morden, Worcester Park, North Cheam, Cheam, Stoneleigh, Ewell, West Ewell, Earlsfield, Wimbledon Village, Tooting, Clapham Common, Wandsworth Common, Wandsworth, Putney, Putney Heath, Roehampton, Fulham, Parson Green and the surrounding London areas.
We also highly recommend checking out the Wimbledon Windows online quotation engine. This incredible program has been designed to offer customers the opportunity to get a free, no-obligation personalised price on their new uPVC doors. Try it out today and enter the details of your home improvement project. You'll get a quote within a matter of minutes.