Aluminium Bi-Fold Doors Wimbledon
Stunning Aluminium Bi Fold Doors in Wimbledon
Here at Wimbledon Windows, we pride ourselves on the superb quality of our aluminium bi-fold doors. These exceptional folding doors create a stunning feature in your Wimbledon home, opening up your property to the outdoors.
Our aluminium bi-fold doors are impressively high performance home improvements for your Wimbledon home, offering fantastic efficiency and security as well as a beautiful appearance.
You will truly enhance your home and your lifestyle in so many ways when you choose our aluminium bi-fold doors.
Please read on to find out more about these spectacular folding doors and the benefits they provide for your Wimbledon home.

Quality Aluminium Bi-Fold Doors in Wimbledon, London
We work with the innovative British manufacturer, Origin Global for our aluminium bi-folding door range. This ensures that our Wimbledon customers receive sliding doors that have been developed and engineered in the UK to meet British needs.
You will receive an installation that is uniquely crafted to ensure maximum performance and style, and is tailored to meet your specifications.
Our aluminium bi-fold doors are created to the very highest standards using cutting edge technology, so that your new sliding doors truly enhance your Wimbledon home.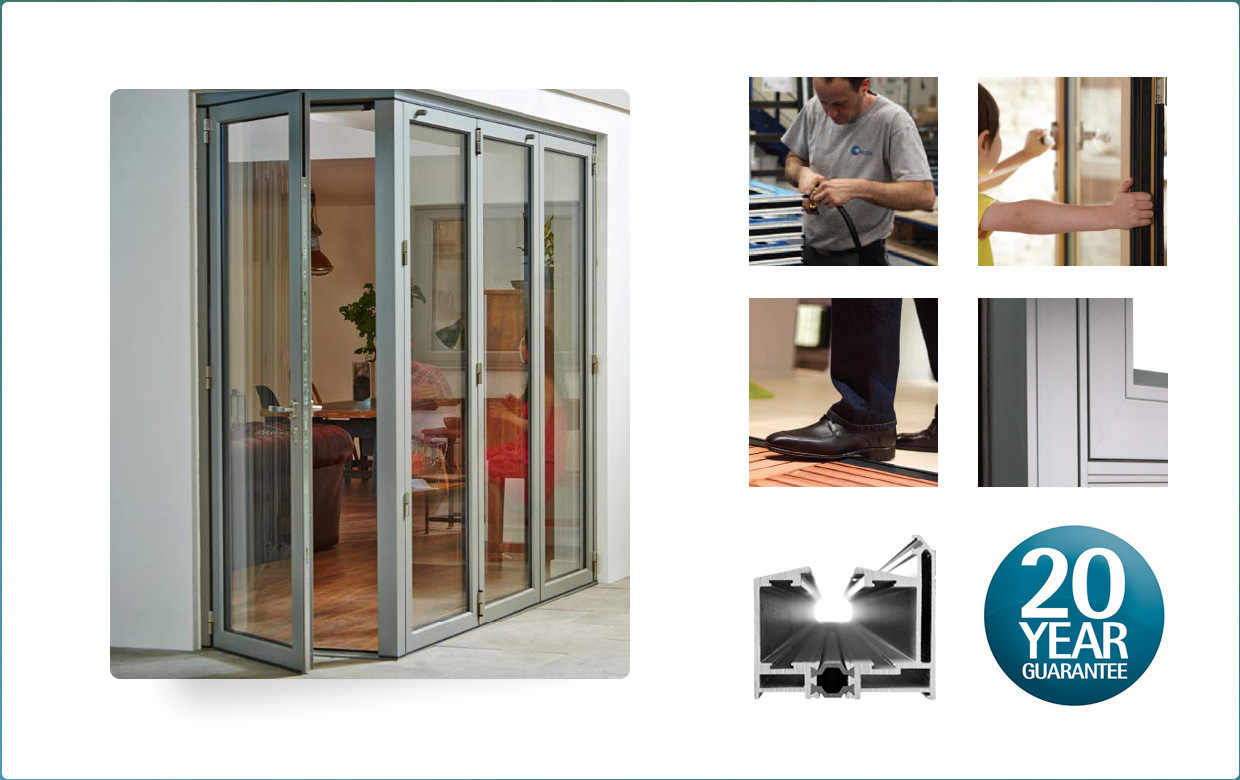 Superb Energy Efficiency
With many aluminium doors, energy efficiency is not as good as their uPVC counterparts, however, our aluminium bi-fold doors from Origin match this high standard of thermal performance.
The precision engineered design incorporates state of the art innovations to ensure maximum insulation, keeping your home cosy and warm no matter how cold it is outside.
With our aluminium bi-fold doors you will benefit from heat being retained within your property for longer, which means that you will need to use less of your central heating to keep the temperature comfortable. In turn, this could lower your energy bills, adding another element to the cost effective home improvement of aluminium bi-fold doors.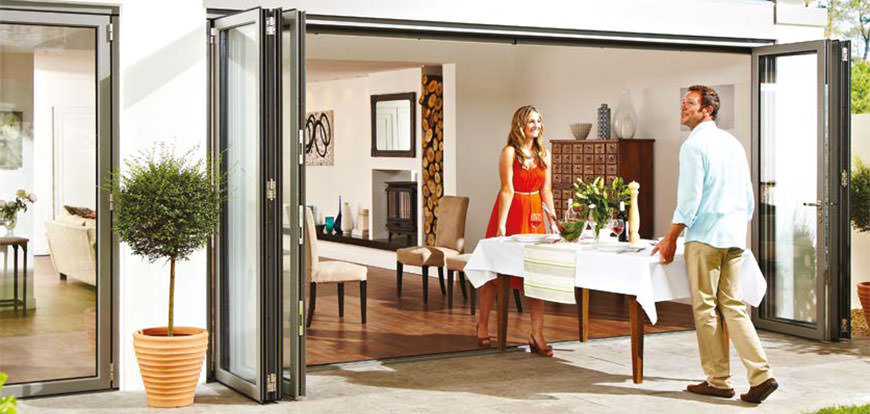 Unrivalled Security
Aluminium is an inherently strong material and is virtually impossible to break. This makes it fantastic for creating windows and doors for your home, as it comes with ready-made security.
When this strength is combined with the high security locking systems that we fit as standard to our aluminium bi-fold doors, you can expect nothing less than exceptional home protection.
Our aluminium bi-fold doors will keep your family and Wimbledon property safe and secure, giving you complete peace of mind.

Beautiful Aluminium Bi-Fold Door Styles
When you choose your aluminium bi-fold door from Wimbledon Windows, you will be given a range of options to create the perfect style. Our sliding doors are available in a wide range of fold configurations, so that you can maximise the potential of the space you have available as well as have easy access to the outdoors to suit you.
On top of this, we have a vast variety of colour finishes that you can choose from to create the perfect look for your home. It's so easy to blend your new aluminium folding doors in with the rest of your property's style, or even make them stand out as a focal point, with our range of beautiful colours.
We also provide a selection of hardware options so that every last detail of your aluminium bi-fold doors is an exact match to your personal tastes and your Wimbledon property.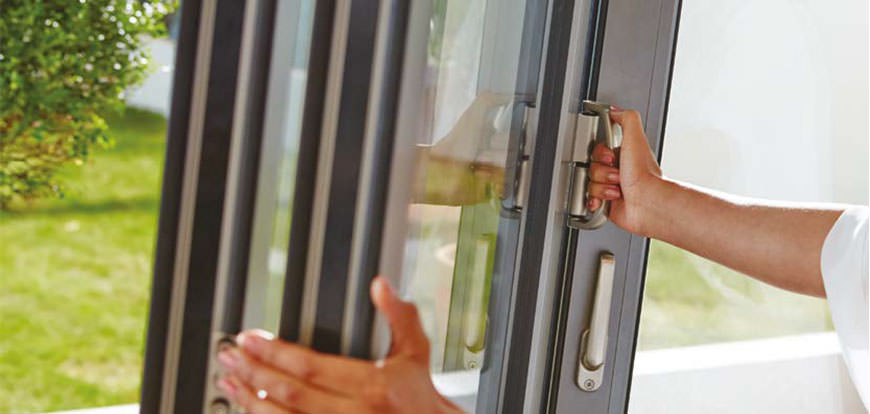 Attractive and Functional
Aluminium bi-fold doors are an attractive home improvement, creating a seamless link between your home and garden. You will be able to enjoy the easy opening of these sliding doors, and with our range of low threshold options, you can achieve a truly accessible outside space.
Our aluminium bi-fold doors have a wonderfully smooth gliding system that is incredibly robust, ensuring that it will provide perfect operation for many years to come.
Hard Wearing Sliding Doors
The beauty of our aluminium bi-fold doors in Wimbledon is that they are exceptionally hard wearing. With minimal effort, your sliding doors could last for many years to come. In fact, we are so sure of their long term performance, that our aluminium folding doors come with a fantastic 20 year manufacturer's guarantee.
All you will ever need to do is give them an occasional clean to keep them in perfect working order, and they are designed to never warp, rot or fade. Aluminium bi-fold doors make an incredibly cost effective home improvement for your Wimbledon property.

Aluminium Bi-Fold Doors Wimbledon, London
If you would like to know more about our amazing aluminium bi-fold doors in Wimbledon, then please do get in touch. We have a friendly team on hand to help you with your queries and to provide expert advice and guidance on our aluminium sliding doors.
We also offer instant online quotes! You can get a tailored aluminium bi-fold doors price through our simple to use online door designer. Try it now!
Categories: Aluminium Bi-Fold Doors in Wimbledon
Tags: aluminium bi-fold doors wimbledon, aluminium doors, Bi-fold Doors, bi-folding doors