Composite Doors Richmond
Choose Composite Doors for Your Richmond Home
Composite doors are a superb home improvement as they offer Richmond homeowners the most impressive performance qualities as well as superb style.
If your front door is looking tired and dated, it might not be providing the efficiency and security that your Richmond home needs. Replacing it with composite doors enables you to achieve whole new performance levels and a welcoming beauty that truly complements and enhances your property.
Composite doors offer the most exceptional efficiency, security and aesthetics, making them one of the most popular home improvements in Richmond. Here at Wimbledon Windows, we supply and fit the most impressive composite doors throughout Richmond, pleasing our customers with installations that meet the highest standards and customer service that is second to none.
Read through our handy guide to the benefits and features of our superb composite doors and make your choice for home improvements in Richmond.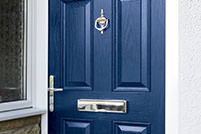 Incredibly Stylish, Stunning Beauty – Composite Doors in Richmond
You can achieve the most stunning aesthetics when you choose composite doors for your Richmond home.
They have an authentic timber appearance that replicates the style of wood so perfectly that you will struggle to tell the difference between a composite door and a traditional wooden door.
Every composite door we offer is styled to reflect your personality and complement your Richmond home. We offer a wide range of panel designs that can enhance the traditional appearance of your property, or blend in with its modern style.
Once you have found the perfect composite door panel design, you can choose from a range of lovely colours to create the perfect look for your home. In addition to that, we also offer spectacular decorative glazing options, hardware and accessories so that the door we install into your Richmond home is complete and ready to go.
Multi-Functional Insulation with Composite Doors
Composite doors may have the appearance and beauty of timber, but they have an innovative construction which enables them to incorporate all the innovations of uPVC technology. These creates a fantastically insulating door which is beneficial in several ways.
Firstly, you will be protected from the cold. Our Endurance composite doors are brilliant when it comes to thermal performance and are in fact capable of up to five times the insulation performance of timber doors. Your home will be warmer for longer, ensuring that you need to use less heating and therefore have lower energy bills.
This insulation also works to sound proof your Richmond home, keeping out the intrusive street noise that interrupts your relaxation time. Your home will be a peaceful and calm haven, keeping you protected from the sounds of the street outside. The perfect solution for modern homeowners who dream of peace and quiet!
Finally, the superb insulating properties of our composite doors even protects your Richmond home from inclement weather. We all know that the British weather is turbulent and our winter storms can be terrible, but with composite doors, you will be able to enjoy a protection from gale force winds, torrential rain and heavy snow.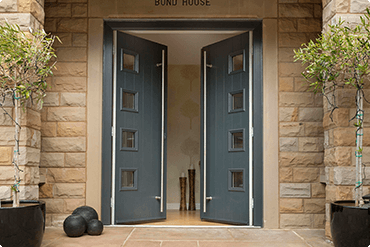 Composite Doors – The Ultimate Security Option
Home security is one of the most important factors when choosing any new front door.  You want an entrance that protects you and your family from unwanted intruders and keeps your property safe.
With composite doors, you will be able to achieve ultimate security performance. The clever construction of these spectacular doors makes them almost impenetrable. The door itself is robust and naturally strong, it is even difficult to dent it, so breaking it is virtually impossible.
We then fit all our composite doors with the very latest high security locking systems to maximise their security potential, creating a door that provides optimum security performance.
With a composite door from Wimbledon Windows, you can be confident that your Richmond home and family are fully protected.
Superb Features, Fantastic Performance, Little Effort!
Composite doors offer so much to Richmond home owners, making them highly sought after, however, all this comes with minimal effort from you.
To keep your doors in the very best condition and operating at the highest levels for many years to come, all you will ever need to do is give them the occasional clean. It really is as easy as that to keep your composite doors achieving the best performance possible.
Ready For Your Richmond Home Improvements?
Composite doors are fantastic home improvements for Richmond properties, and we are proud to offer great composite doors prices that are competitive and cost effective to our customers.
Wimbledon Windows are focused on quality products, value for money and exceptional customer service, so choosing us to install your composite door ensures that you get the best of everything.
Get in touch to find out more, or take a look at our online door designer and create your dream composite doors.
Categories: composite doors richmond
Tags: composite doors richmond, double glazed doors, exterior doors, front doors