uPVC Bi-Folding Doors Wimbledon
Wimbledon Windows fit a range of Bi-Folding doors in the Southwest London area. Choose a beautiful Bi-Folding door here today!
Are you thinking about using uPVC Bi-Folding Doors to create more light and space in your Wimbledon home? The best option for you is Wimbledon Windows, with our top of the range Liniar  bi-folding doors, that can be suited to any London home. Verified by the Double Glazing Network, our bi-folding doors are the perfect way to link rooms or areas in your property in a safe and accredited way. With a range of styles and colours, there's a bi-folding door for everybody.
Use Bi-Folding Doors to Make the Most of Your Space
Our uPVC Bi-Folding doors are an excellent way to connect two rooms, or even an interior room to a conservatory or outside space. Making the most of the space in your Wimbledon home is easy with a Bi-Folding door, as they are easy to install, and our dedicated team will work around you and your family with no hassle or fuss.
Using a Bi-Folding door in the space of entire wall creates the illusion of more space and light transforming your Wimbledon home. What's more, is that our Bi-Folding doors have slim outer frames, which are specifically designed to ensure 90% of the opening is unobstructed, and natural light will easily come flooding through.
We Tailor Bi-Folding Doors to Suit You
Don't be concerned if you have a very particular style of Bi-Folding door in mind. We have a range of fold configurations and colours to suit you.
With our extensive choice of threshold options, every Wimbledon home will be greatly enhanced with one of our Bi-Folding doors.
Standard Threshold
Our standard threshold option gives you an excellent weather-tight seal, making your Wimbledon home cosy while giving you a cost-effective choice.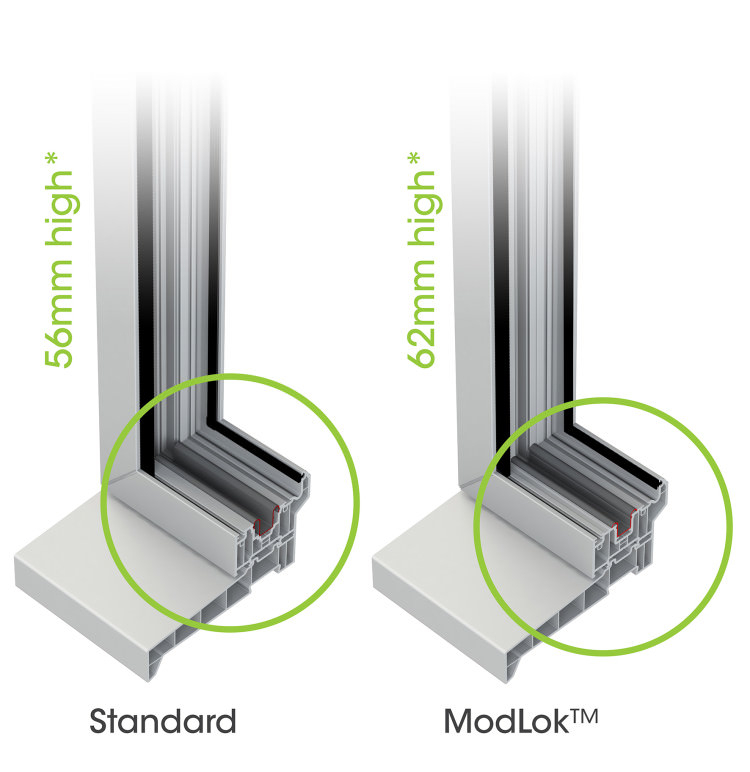 Low Threshold
Worried about your Bi-Folding doors being family friendly? Our 24mm low-threshold option is laid on an existing surface, which makes it a great choice for families. Available in silver or gold in line with the door's hardware, choosing a low threshold bi-folding door is guaranteed to be aesthetically pleasing, as well as safety conscious.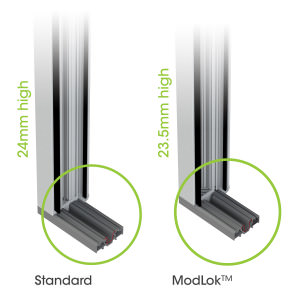 Part M Compliant Low Threshold
This is a great option if you're looking for an easy access bi-folding door, as this option creates a subtle, wheel-chair friendly ramp.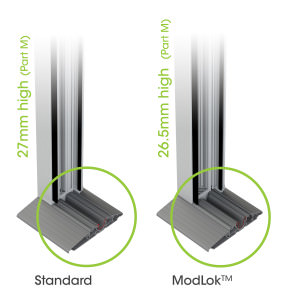 Part M Compliant Half Threshold
Need a wheel-chair friendly option but want internal flooring to be fitted flush to the threshold? A matching half tray can be supplied, creating a ramp that suffices both options.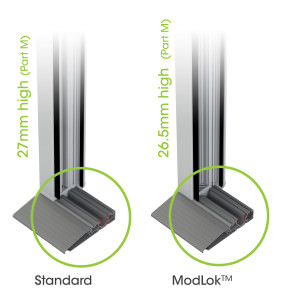 Our Bi-Folding Doors are Thermally Efficient and Sound-Proof!
Our Bi-Folding Doors come in a range profiles to make the most of your heat this winter.
With consistently exceptional energy ratings and U values, Bi-Folding Doors are robust, as well as attractive, and will guarantee you won't be pulling those purse strings.
Here at Wimbledon Windows we fit our Bi-Folding Doors with cost-effective double-glazed units to keep in the heat, but also to keep out any noise pollution. A constant seal is created around the outside of our Bi-Folding Doors, using a patented bubble gasket which prevents draughts and has excellent water resistance.
Whether your Bi-Folding Door links two internal rooms or is an entrance to the garden, you can wave goodbye to distractions and say hello to peace and quiet.
---
Beautifully Designed Bi-Folding Doors to Complement your Wimbledon Home
Your new Bi-Folding Doors will inconspicuously blend into your Wimbledon home, with all hardware hidden away using in-board mounted stainless steel tracking.
Our Bi-Folding Doors also come fitted with slim hinges with concealed fittings, which is aesthetically pleasing as well as security conscious; it is impossible for these to be unscrewed externally.
Detail is everything with your Bi-Folding Doors, so we even use folding keys to prevent any possibility of keys being left in locks.
 
Modernise your Wimbledon Home with Bi-Folding Doors
uPVC Bi-Folding Doors are an excellent way to bring a contemporary feel to your home.
By adding extra light, the illusion of space and a current, aesthetically pleasing Bi-Folding Door, your Wimbledon home will be instantly rejuvenated.
With a range of styles and colours, it is easy to add a modern bi-folding door to a Wimbledon house of any kind.
Your Bi-Folding Doors are Available in a Range of Colours!
We have a huge choice of colours for your Bi-Folding Door, ranging from a classic 'Cream' to a wooden Bi-Folding Door effect using 'Golden Oak' or 'Rosewood'.
Whether its sculptured or chamfered, there's a style of Bi-Folding Door that will suit any design of home. Mansion or bungalow, there's a Bi-Folding Door for everyone.
Wimbledon Windows provide the most robust, beautiful Bi-Folding Doors in South West London. Get an instant online quote or please contact us, and we'll do the hard work for you!
Categories: bi-folding doors wimbledon, Wimbledon Windows
Tags: bi-folding doors, bi-folding doors london, bi-folding doors wimbledon, London, upvc bi-folding doors, Wimbledon, Wimbledon Windows