uPVC Doors, London
Quality uPVC Doors in London
Are you looking for high quality uPVC Doors in London? You've come to the right place, as here at Wimbledon Windows we offer a stunning range of double glazed doors to suit a range of London properties.
Whether you're looking for a new front door, or you want to update the interior doors of your home, we have an outstanding selection to bring charm and security to your London home.
So what's so great about our uPVC Doors? Why are they the best choice for you?
Highly Secure uPVC Doors
Our uPVC Doors are incredibly secure, boasting robust locking systems from Yale and robust a uPVC profile. We choose only the very best uPVC profiles for our uPVC double glazing, which is why you can rely on us to provide your London abode with uPVC doors to be proud of.
We use the famous Liniar profile for our uPVC Doors, as it's regarded as one of the very best in the industry. Liniar are a leading uPVC manufacturer, and guarantee that their uPVC will keep warm air inside your home for longer with their innovative multi-chambered design.
With complex locking systems and security measures in place to keep your loved ones safe, you can sit back and relax within your London home without the concern of burglars or attempted forced entry.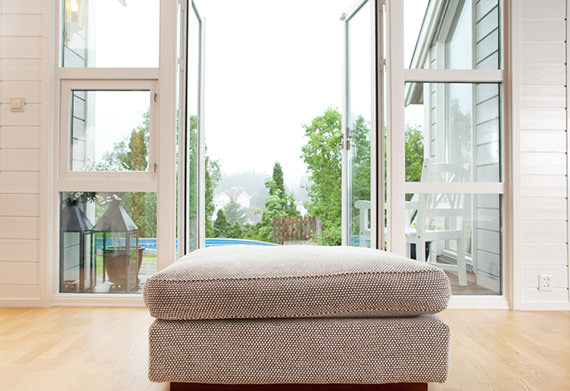 Energy-Efficient Double Glazed Doors
We understand the growing desire to be eco-friendly, which is another reason we've chosen Liniar's intelligent uPVC door frame. Accredited by the Energy Saving Trust, our uPVC double glazing is accredited as being as energy-efficient as possible.
Trapping warm air inside their uPVC chambered design, our double glazed doors offer exceptional thermal efficiency that will keep your London property warm all year round. Liniar's co-extruded bubble gaskets will keep draughts at bay, and will even save you money on your heating bills.
Every one of our uPVC doors is 100% lead-free and has been manufactured in the UK, so you can rest assured that you're choosing an eco-friendly uPVC door for your home. Go green with our impressive double glazed doors!

uPVC Door Styles
We offer a wide range of double glazed doors, to suit every need of your London home.
Our wide selection includes Front Doors, Stable Doors, French Doors, Patio Doors and Bi-Fold Doors, and we're sure that every style will suit your London property.
Features and Benefits
With a wealth of features and benefits to offer you and your loved ones, it's difficult to think of reasons not to choose our uPVC Doors!
Our customers choose our double glazed doors for many different reasons,  such as high security, energy-efficiency and unique aesthetics.
Your neighbours will take one look at your new double glazed doors and will be desperate to know where you bought them!
Secured by Design
Accredited by national police project Secured by Design, our uPVC doors are manufactured with security at the forefront of the design process. The safety of your loved ones is of utmost importance, and we only use the most robust, durable materials for our double glazed doors.
Our interior doors and exterior doors reach an incredibly high level of security, and have been tested against strict guidelines to ensure they will significantly reduce the likelihood of a break-in.
Variety of Choice
We offer a wide variety of choice when it comes to our uPVC door range, to ensure you have the opportunity to find the perfect double glazed doors for your London home.
Our uPVC Doors are constructed from 100% lead-free, fully recyclable materials, and can be outfitted in a wide range of colours. You really can express the personality of your home and loved ones with our stunning uPVC Doors.

Insurance Backed
Backed by generous guarantees, you can rest assured that your new double glazed doors will last for many years into the future.
With a 10 year manufacturers guarantee and £1,000 towards your contents insurance in the unlikely event of a break-in, you can trust that our uPVC doors are made to last.
Threshold Options
We always make sure to make low threshold options are available across our uPVC Door range, to provide an easy-access option for wheelchair users and pushchairs.
You have the choice of a standard or low threshold, as well as a uPVC threshold or a Part M compliant aluminium threshold, to give you plenty of choice.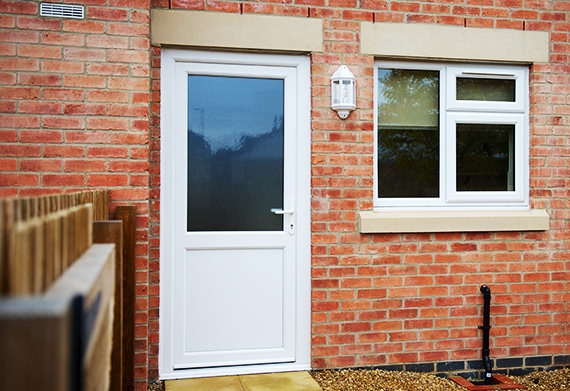 Britain's Favourite Lock
Why choose anything less that Britain's favourite lock for your uPVC Doors? We use Yale Lockmaster multi-point locking systems on every one of our double glazed doors, to ensure your London home will be kept as safe as possible.
Accredited by Secured by Design, Yale locking systems really are the best choice for your new double glazed doors.
Double Rebated Design
Concerned that your new uPVC doors won't be weatherproof? With Wimbledon Windows there's no need to worry!
We use a double rebated design on our outer frame profiles, to offer the best protection against Mother Nature's antics.
uPVC Door Prices in London
Start your instant online quote now for competitive uPVC door prices in London! Our simple online price calculator is very easy to use, and will provide you with affordable door quotes in no time at all.
If you're looking for more information, why not give us a call on 020 8543 1444? Our helpful team are always happy to help. Alternatively, complete our contact form to get in touch online. One of our friendly advisors will be in touch shortly to help you with your enquiry.
Categories: uPVC Doors London
Tags: back doors, double glazed doors, front doors, upvc door, upvc doors london